62 WHEN Radio - James Street Studios - Syracuse, NY
"A Look Back"
1964
Arnie DeAnglio in the foreground with Abe Albright to the far right. To the left rear is Steve Shannon. Not a news guy but Promotion Director at the time. To the far right rear is Quint Neufeld seated and I have no recollection of who was standing beside him.
Deane P.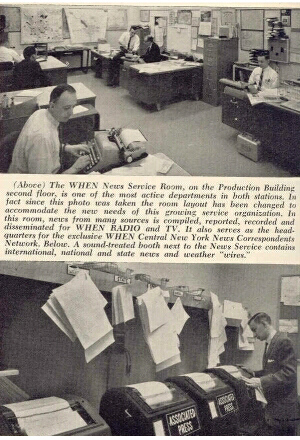 Abe Albright at one of the teletype machines.
Photos/captions
courtesy Deane Parkhurst
Check out more pages in the "Lookback" Series.
(1) (2) (3) (4) (5)
Site courtesy of ..
Class A Communications
Copyright ©2022 Class A Communications - All Rights Reserved